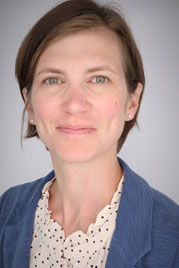 Phone:

812.855.7957

Email:

msolon@iu.edu
Megan Solon is Director of the Indiana University Honors Program in Foreign Languages (IUHPFL), where she is responsible for the planning and oversight of summer language immersion programming for Indiana high school students, currently in three host countries: Austria, France, and Spain. Megan holds a PhD in Hispanic linguistics from Indiana University.
Megan first traveled abroad as a high schooler to Gera, Germany, a sister city of her hometown Fort Wayne. The following summer, she participated in IUHPFL's program in Valencia, Spain, which was an amazing and formative experience for her. During college (Miami University) and graduate school (Indiana University), Megan studied or worked abroad in Spain, Mexico, and Bolivia. She also returned to the IUHPFL program as an instructor for two summers in Mérida, Mexico during her graduate studies. After earning her PhD, Megan worked as Assistant Professor of Spanish linguistics at the University at Albany, SUNY for several years. She later returned to Bloomington, where she was a Lecturer and Course Supervisor in the Department of Spanish and Portuguese before assuming her current role with IUHPFL.
Megan is a sincere believer in and advocate of IUHPFL's unique four pillar structure not only due to her personal experiences with the program but also because of her research and training in second language acquisition and language teaching. She has presented and published widely on various aspects of language learning and teaching including on the effect of short-term study abroad programs on linguistic development. She is also co-author/co-editor of two academic books related to the mission of IUHPFL: The acquisition of Spanish as a second language: Foundations and new developments (Routledge, 2021) and Communicative competence in a second language: Theory, method, and applications (Routledge, 2023).
Megan is excited for the opportunity to work with students, parents, and educators from all over Indiana as well as with talented instructors and on-site staff and coordinators to bring IUHPFL's mission to fruition.